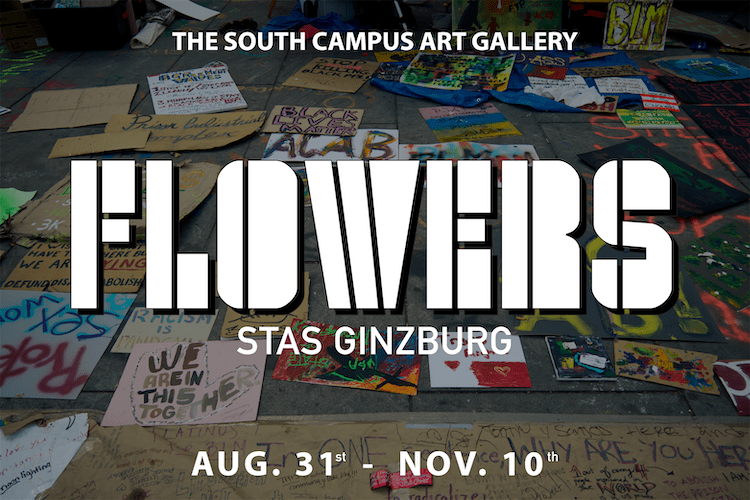 FLOWERS will open to visitors in the gallery on August 31st and run through November 10th.
An opening reception will take place on August 31st from 3 p.m. to 6 p.m.
The Artist Talk will be held on September 28th at 3 p.m.
Details will be available on the gallery's Instagram @bcsouthcampusart. The Broward College South Gallery is in Building 69, room 137 of the Judson A. Samuels South Campus, 7200 Pines Boulevard, Pembroke Pines
The gallery is open Monday, Tuesday, Thursday, & Friday 9 a.m. - 4 p.m.; Wednesday 9 a.m. - 6 p.m.
Contact Gallery Curator Kohl King, 954-201-8987 or at kking2@broward.edu for private viewings or to schedule class field trips. Entrance to the gallery is free and open to the public.
Masks and social distancing are strongly encouraged.
Stas Ginzburg is a multidisciplinary artist based in Brooklyn, NY. In 1999, Ginzburg immigrated to the U.S. from Russia as a Jewish refugee. In 2006, he graduated from Parsons School of Design, NYC where he studied photography. Since then he has expanded his practice to sculpture, installation, and performance art. When the protests for racial justice ignited at the end of May 2020, Ginzburg returned to photography to document the many faces of young activists who came out into the streets to fight for Black liberation.
"Youth is leading the revolution. Since the murder of George Floyd, the resurgence of street activism from Black Lives Matter to Stop Asian Hate, Free Palestine, and advocacy for trans, immigrant, and sex workers' rights has filled the streets of New York City. Black queer and Black trans voices have come to the forefront of the fight. Their photographs make up most of this portfolio-portraits of people I have met at marches and rallies as well as actions that center and uplift marginalized communities. I started thinking of these young activists as flowers, full of beauty and life at the dawn of a new era." -Ginzburg
Ginzburg's work has been shown in venues across the United States including Queens Museum, Fort Wayne Museum of Art, Honolulu Museum of Art, National Museum of Nuclear Science & History, and LA Center for Digital Art, among others. His works are in the collections of the Museum of Art at the University of Oklahoma, Fort Wayne Museum of Art, and Kunstwerk Museum in Eberdingen, Germany. Ginzburg has shown his performances at Humboldt University in Berlin and Weltkunstzimmer in Düsseldorf, Germany.