Vladimir Zimakov: Random Things Just Happen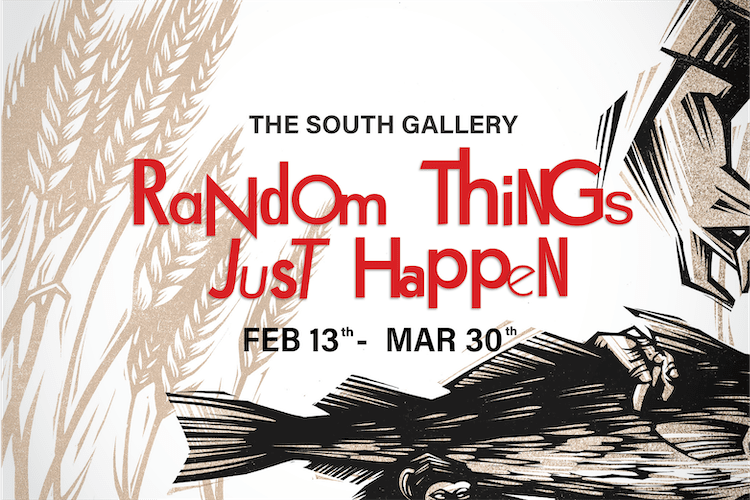 Several years ago, Artist Vladimir Zimakov started working on illustrating the nonsensical poem by Lewis Carroll called Haddocks' Eyes. The project resulted in a limited-edition book, using a combination of relief printmaking techniques, which he published under his own imprint Wild Pangolin Press. The approach that he took in creating this book was very similar to staging a theater play. Each character had to be effectively presented and each scene from the poem had to be well orchestrated on a page; for a project of this scope, everything needs to be carefully planned out and executed. There is little room for error or chance.
However, once the book was completed, Zimakov began experimenting by overprinting and randomly juxtaposing images and words originally meant for the book, creating a spin-off series of unique compositions that often became more exciting and interesting than what he originally envisioned.
For Zimakov's solo exhibition at The South Gallery, entitled Random Things Just Happen, he will showcase the finished Haddocks' Eyes limited edition book, along with the pieces that originated from his sketches, drafts, and printing experiments which were created along the way. Results of the creative explorations and experiments that also occurred after the book was completed will also be displayed revealing the many inspirations and random occurrences that can occur in the process of making art.
Vladimir Zimakov is a Boston-based artist, illustrator, printmaker, and Associate Professor of Art at Lasell University. He has illustrated books and designed book covers for the world's leading publishing houses such as Penguin, Random House, Faber and Faber, the Folio Society, Vita Nova, and Oxford University Press. His work has been exhibited in numerous solo and group shows in America, Russia, and other parts of the world. He is actively involved in the book art and design community and regularly participates in artist book and printmaking events in the US and abroad.
Random Things Just Happen will open to visitors in the gallery on February 13, 2023, and run through March 30, 2023. A reception and Artist Talk will be held on February 22 from 2 - 4 p.m. at the gallery.
Details will be available on the gallery Instagram @bcsouthcampusart
The Broward College South Gallery is in Building 69, room 137 of the Judson A. Samuels South Campus, 7200 Pines Boulevard, Pembroke Pines, 33024.
The gallery is open Monday, Tuesday, and Thursday from 10 a.m. - 4 .pm.
Wednesday by appointment only
Contact Gallery Curator Kohl King at 954-201-8987 or at kking2@broward.edu for Wednesday appointments, private viewings, or to schedule class field trips.
Entrance to the gallery is free and open to the public. Masks and social distancing are strongly encouraged.