Mayuko Ono Gray: 諸行無常_this too, shall pass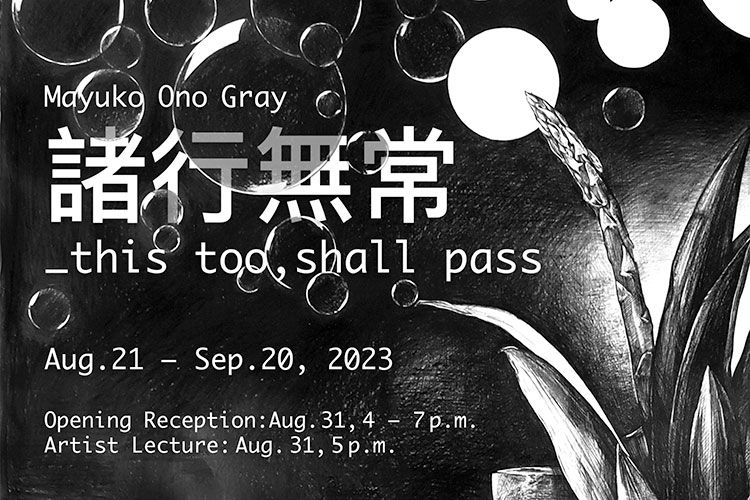 "諸行無常_this too, shall pass" features the work of Mayuko Ono Gray, an accomplished graphite artist based in Houston, Texas. Born in Gifu, Japan, she was trained in traditional Japanese calligraphy in her youth and later studied classical Western drawing before receiving her MFA in painting from the University of Houston. Ono Gray's powerfully large graphite drawings include people, animals, and still-life intertwined with hiragana and kanji characters that spell out Japanese proverbs associated with the images. This calligraphic writing is a continuous line that moves through the work as a metaphor for life and the passage of time. She also expresses this interest in the journey from birth to death by creating one self-portrait a year to document the changes in her own life.
Ono Gray's work has been exhibited in the United States and abroad. Her work has been featured in exhibitions in Japan, Mexico, Germany, Italy, the UK, and Greece. She is a former Gallery Director and faculty member at College of the Mainland, Texas City, TX, and previously served as an Instructor at the Glassell School of Art in Houston. Her works are represented by Hooks-Epstein galleries in Houston, Texas, and Galeria 910 in Oaxaca, Mexico.
Monday, Tuesday, Thursday, Friday, and Saturday: 9 a.m. - 3 p.m.
Wednesdays: 9 a.m. - 8 p.m
Opening Reception: August 31: 4 - 7 p.m.