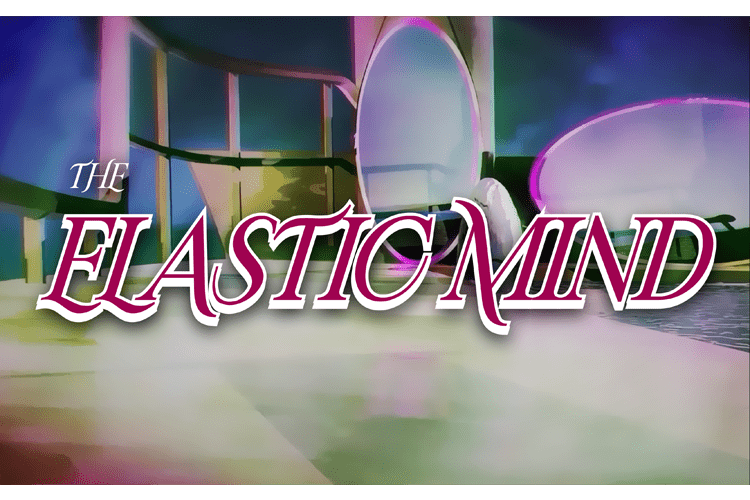 Summer hours are 10am to 2pm, Tuesday, Wednesday, Thursday, from May 17th- August 3rd
The gallery will be closed in observance all national and college recognized holidays.
Closing Reception will be in Fall 2023, TBD
The Elastic Mind is an art exhibition conceived and curated by Kohl King, showcasing a variety of digital and video artworks from selected artists from around the globe. The exhibition creatively addresses and/ or relates to the theme of the Elastic Mind, which is a psychological term that refers to the ability to think non-linearly and be fluid to survive in times of rapid change and uncertainty. In other words, to "have the capacity to let go of comfortable ideas and become accustomed to ambiguity and contradiction, the capability to rise above conventional mindsets and reframe the questions we ask, the ability to abandon our ingrained assumptions and open ourselves to a new paradigm, the propensity to rely on imagination as much as on logic and to generate and integrate a wide variety of ideas, and the willingness to experiment and be tolerant of failure." (Mlodinow, 2018)
Over 300 artists and creatives answered the open call for the exhibition with a combination of over 1000 entries.
From the large response, 67 artists & artist groups, with a total of 104 digital art and videos were selected for viewing.
The Elastic Mind will open to visitors in the gallery on April 20th at 10 a.m. and run through September 28th, 2023 at 4 p.m.
Details will be available on the gallery Instagram @bcsouthcampusart
The Broward College South Gallery is in Building 69, room 137 of the Judson A. Samuels South Campus, 7200 Pines Boulevard, Pembroke Pines, 33024.
Contact Gallery Curator Kohl King at 954-201-8987 or kking2@broward.edu for private viewings or to schedule class field trips.
Entrance to the gallery is free and open to the public. Masks and social distancing are strongly encouraged.
The Elastic Mind Artist List
Aleksandra Mitrovic - Belgrade, Serbia
Alissa Monova - Glasgow, Scotland
Andy DiLallo - Boulder, Colorado
Anna Raff - New York, New York
Aven Schnitzuis - Miami, Florida
Brian Flinn - Derby, Connecticut
Brian Gillis - Eugene, Oregon
Bryan Robertson - Phoenix, Arizona
Calista Lyon - Columbus, Ohio
Caryn Martin - Baltimore, Maryland
Catherine Tyc - Hudson, New York
Chad Sikora - Brooklyn, New York
Chelsea Thompto - San Francisco, California
Cipriano Ortega - Denver, Colorado
Dan Boord - Boulder, Colorado
Daniel Ennet - Alberta, Canada
Daniela Lucato - Berlin, Germany
Darryl Lauster - Arlington, Texas
David Keating - Melbourne, Australia
Desiree Moore - Columbia, Missouri
Diana Rojas - Denton, Texas
Dr. Phoebe Ching Ying Man - Hong Kong, China
Eduardo Rosas - Miami, Florida
Eli Goldstone - Tampa, Florida
Elizabeth Ann Storm - Atlanta, Georgia
Emily Sarten - Las Vegas, Nevada
Emma X Zhang - Melbourne, Australia
Farhad Bahram - Chicago, Illinois
Forest Kelley - Lexington, Kentucky
Greg Durbin - San Diego, California
Hannah Smith - Cincinnati, Ohio
Hartley Carlson - Columbia, Maryland
Ian Hiag - Melbourne, Australia
Ilke Alkan - Istanbul, Turkey
Ioannis Papavasileous - Dubai, United Arab Emirates
James Southard - Louisville, Kentucky
Joe Meiser - Lewisburg, Pennsylvania
Joelle Dietrick - Davidson, North Carolina
Jonathan Henderson - Bar Harbor, Maine
Johab Nascimento Silva - Washington, DC
Julie Harrison - New York, New York
Kaitlyn Jo Smith - Tucson, Arizona
Katina Bitsicas - Columbia, Missouri
Ken Rinaldo - Columbus, Ohio
Kenji Kojima - New York, New York
Kim Dahye - Muncie, Indiana
Kio Griffith - Yokohama, Japan
K-J Mathieson - Orlando, Florida
KT Duffy - Chicago, Illinois
Lauren Woods - Mobile, Alabama
Light Bear - Dresden, Germany
Linda Loh - Melbourne, Australia
Louisa Potapchik - London, England
Luis Valdovino - Boulder, Colorado
Lynn Kim - New York, New York
Merill Shatzman - Durham, North Carolina
Michael Vincent - Taichung, Taiwan
Mika Haykowsky - Alberta, Canada
Milo Masonicic - Podgorica, Montenegro
Noah Phillips - Boulder, Colorado
Noncore Projector - Brooklyn, New York
Owen Mundy - Davidson, North Carolina
Penny Molesso - Lincoln, Nebraska
Raquel Salvatella de Prada - Durham, North Carolina
Ray Lc. - Hong Kong, China
Richard Haley - Detroit, Michigan
Rob Carter - Richmond, Virginia
Sarah Legow - Porto, Portugal
Silvia Saldivar - Boulder, Colorado
Scott Taylor - Milwaukee, Wisconsin
Stefani Byrd - Wilmington, North Carolina
Thomas Pickarski - New York, New York
Tony Ortega - Denver, Colorado
Ty Primosch - Tampa, Florida
Viviane Silvera - New York, New York
Weston Lyon - Los Angeles, California