Lorna Ruth Galloway: Collecting Somewhere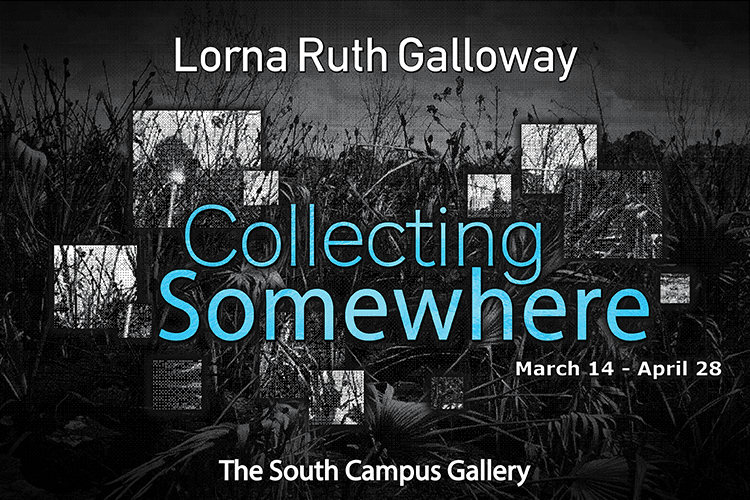 Born and raised in South Florida, Lorna Ruth Galloway is an artist and educator. Her work draws upon experiences growing up blocks away from US Highway 1 and thereby, witnessing the rapidly changing sub-tropical urban landscape. The aesthetics of impermanence as it played out on the American roadside have been an integral part of the development of her overall visual worldview.
Galloway is known for her large, tiled photo-based print installations, but for her 2022 solo exhibition at The South Gallery, she will create an intimate space that will reflect a combination of her studio and her home, allowing the public to explore and engage with her studio practice. The works exhibited will include in-process quilt squares, large prints of wheat-pasted landscapes, collections of meaningful postcards, and small drawings of empty signage. The open floor space of the gallery will be furnished with a collection of thrift store chairs and the artist will be in residence at the gallery on Tuesdays and Thursdays from 10 a.m. - 1 p.m., during the dates of the exhibition. She invites visitors to sit and engage with her while she continues to work on art using 1930s quilt patterns. The quilt is an homage to her late great-grandmother and was inspired by a trip that the artist took to visit her 1934 gravesite. The dialogue and interaction the artist has with visitors during the making of her work will serve to remind all that the process of making work is just as important, if not more than the completed works themselves.
As part of her exhibition and in homage to Women's History Month, the artist invites people to drop off gently used clothing in support of the charitable organization Women in Distress as well as hygiene products for Broward College's Seahawk Outreach Services. These donations will become a part of the work and on display for the duration of the exhibition and at the end, fully donated to each of the named organizations to assist women who are in need.
Collecting Somewhere will be open to visitors from March 14 - April 29. The opening reception will be held on Thursday, March 17 from 1 - 4 p.m., with the Artist Talk at 2 p.m. Visitors are encouraged to attend in person. The event will not be recorded.
Details will be available on the gallery's Instagram
Dates: March 14 - April 29, 2022
Monday - Thursday: 9 a.m. - 4 p.m.
Friday: 11 a.m. - 4 p.m.
For private viewings or to schedule class field trips, contact Gallery Curator Kohl King, at 954-201-8987 or kking2@broward.edu.